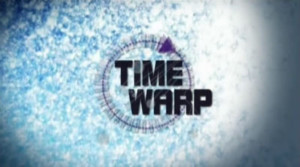 I was very excited to visit the set of Time Warp last April and talk about the work I did as a PhD student.  I haven't posted the event until now because I thought it would be better to post a clip from the show.  I tried to get the producer to send me free copies of the show, but I had to buy them myself last week so that I could post them here… thanks for nothing.  Since it is television I am starting to think that the stereotypes associated with producers nodding and saying yes to everything, but following through on very little of the promises might be true… in his defense I know the producer appeared to be wicked busy… But anyway, I am happy to have been on the show again and honestly glad to have the series as a set.  We don't have cable so I haven't seen many episodes anyway.
My kids and some dear friends that were in town came with me and I thought the shooting went very well.  I guess they were at the end of the seasons shooting because it wasn't until October that the episode I was in aired.  I like this episode a bit more than the first one I was in.  I like that Matt (host) is the narrator and how relaxed the set felt.  Perhaps last time being in our own lab shooting bullets I was a bit nervous that things would turn out well, this time I was dropping spheres into water, which is much less stressful. Plus, I had the added bonus of talking with the director of photography (Wes Skiles) for a couple of hours about his caving adventures, cameras, science, life, etc… it was breath taking and my kids really loved it, Thanks Wes.  And a big thank you to Jeff, Matt, and the crew of Time Warp, especially the guy who taught my kids how to tie knots off camera, we had a very memorable day that I think my kids will remember for ever.
Blue Men, Propellers, Big Bangs and Viewer Requests: Blue Man Group visits. The realm of fluid dynamics. The science of propellers. Viewer requests. Premiere: Oct. 21, 2009.
Enjoy.