Principal Investigator
Professor Tadd T. Truscott
Curriculum Vitae
Tadd received his B.S. degree in mechanical engineering in 2003 from the University of Utah (advisor Prof. Patrick McMurtry). As an undergraduate researcher, he helped develop and implement an inertial measurement unit (advisor Prof. Mark Minor) and was employed by the CSAFE laboratory (advisor Prof. Patrick McMurtry) to run rocket nozzle flow visualizations.  He received his Ph.D. in June 2009 from The Massachusetts Institute of Technology (advisor Prof. Alexandra H. Techet) for research in the field of hydrodynamics.  During his graduate studies he studied the effect of wetting angle from surface treatments and dynamic effects on the water entry of spheres.  He also studied the stabilization criterion for the water entry of bullets.  During his graduate studies he helped pioneer a quantitative 3D imaging technique now known as Synthetic Aperture Particle Image Velocimetry (SAPIV).  He continues to develop imaging methods that utilize the basis of this technique.  As a professor at BYU he spends a large portion of his summers at the Naval Undersea Warfare Center in Newport, RI as a Research Scientist.
His research interests span the fields of fluid dynamics, bio-medical flow visualization, ocean-wind-wave renewable energy, micro-fluids, bio-engineering, optics, computational cameras, physics, imaging, flow visualization,  photographic techniques, and  microbiology.
Mujtaba Mansoor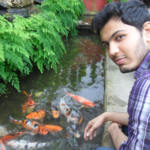 Mujtaba earned his B.S. in mechanical engineering from the University of Nottingham in 2011 where his final year project investigated fluid flow and heat transfer in micro-channel heat sinks using CFD simulations. He then joined King Abdullah University of Science and Technology (KAUST) as a Master's student to obtain his M.S. degree in 2012 and stayed on to pursue his Ph.D. (2013-2016) under the supervision of Prof. Sigurdur Thoroddsen. His research at KAUST focused on free-surface flows, cavitation, laser ablation, droplet splashing, granular flows, squeeze flows, and coating flows. Of particular interest to him has been the classical water-entry problem which is relevant to several naval and military applications such as in air-to-sea ballistic missiles, slamming of ships, and seaplane landings. Mujtaba now works as a postdoctoral researcher at the Splash Lab where he is studying the swarming of living organisms to help program robots which can mimic the flocking behavior observed in nature used ubiquitously to perform collective tasks such as avoiding becoming a prey, gathering food, and hunting. On a different note, he is an avid petrol head and follows Formula 1 racing quite closely.
Zhao Pan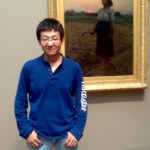 Zhao Pan performed his doctoral research in the Splash Lab and received his Ph.D. from Brigham Young University in May 2015. His dissertation addresses error propagation dynamics of the PIV-based pressure calculation. He has broad research interests including topics such as: PIV, CFD, bubbles, droplets, and fluid instabilities, as well as biofluids, especially flow and transport in plants. Prior to joining the Splash lab, he worked in dynamics and controls during his undergraduate and master years. He also tested material and heat transfer for a short time; however, after taking Prof. Christo I. Christov's PDE class, Zhao dramatically changed his interest to fluid dynamics. He looks forward to connecting his various backgrounds with his future research in fluid dynamics. He enjoys art, food, and especially basketball, but now he is too fat to play.
Randy Hurd

Randy Hurd received his B.S. in Mechanical Engineering from BYU in 2012 and is currently pursuing a PhD in the same field. His research focuses on investigating the impact dynamics of highly deformable spheres with the water free surface. With ideal impact parameters, highly deformable spheres are capable of rebounding off of the water surface in a manner similar to skipping stones, but with greater efficiency. Randy's research seeks to better understand this phenomenon with the intent of optimization. Randy is also involved in promoting interest in science, technology, engineering and mathematics among adolescents and teenagers through a local educational outreach program featuring underwater robotics. Randy enjoys dark chocolate, carbon bikes and long walks on the beach.
Nathan Speirs

Nathan Speirs received his B.S. in Mechanical Engineering from BYU in 2015 where he joined the Splash Lab. He is a currently a PhD student in the Splash Lab at Utah State University. His research focuses on methods of mitigating severe slamming loads associated with water impact, with the hope of preventing injury to operators of small combat watercraft and eliminate damage to airdropped torpedoes and sonobuoys.
Syed Rafid Rahman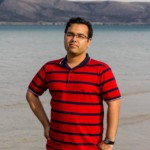 Syed Rafid Rahman completed his BS in Naval Architecture and Marine Engineering from Bangladesh University of Engineering and Technology in 2015. He is a currently a PhD student of Mechanical Engineering in the Splash Lab at Utah State University. His PhD focuses on methods of finding the mechanics of swarming behavior and its application in the field of Mechanical Engineering. He loves reading books, watching soccer, playing cricket and visiting new places.
Saberul Islam Sharker

Saberul Islam Sharker completed his B.S. in Mechanical Engineering from Bangladesh University of Engineering and Technology (BUET) and is currently a graduate student in Utah State University. A Splashlab member since August 2015, he started his research on the water entry of diving birds. This bio-inspired research focuses primarily on the impact velocity and force that affect cavity formation. He loves hiking and visiting new places and likes football (the real football, not the American one!) and when at home, he likes to watch movies and read novels.
Benjamin Lovett

Benjamin Lovett received his B.S.in Mechanical Engineering form Utah State University and is currently pursuing a master's in Mechanical Engineering from USU. Ben joined the Splash lab in March 2015 where he is involved with experiments on the water entry of axisymmetric bodies and pretty much whatever else comes his way. His favorite things to do involve basically anything outside, playing sports (except basketball), playing music, building with Legos, or playing Axis and Allies.
Rafsan Rabbi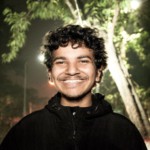 Rafsan Rabbi received his B.S. in Mechanical Engineering from Bangladesh University of Engineering and Technology (BUET) and is currently a graduate student at Utah State University. He joined the Splash Lab in October 2016 and has been working with the Swarming Team. His research focuses on the application of natural swarming phenomena in the field of robotics. As autonomous vehicles are the way forward, creating self-sustaining swarms for autonomous systems may have a profound impact on everything from combat to day-to-day life. Rafsan is a Potterhead. He is sorted into Gryffindor and has an Acacia wand (as Pottermore declared!). He loves to play Cricket and follow international politics in his leisure time.
Andrew Merritt

Andrew Merritt is a Junior at Utah State University. He started working as a research assistant at the Splash Lab in May 2015 and has helped implement various projects involving droplet impingement and the free surface impact of slender bodies. His favorite hobbies include listening to music, reading, and camping.
Lydia Williams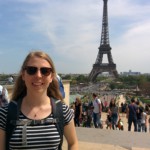 Lydia Williams is studying business administration and human resources at Utah State University, and will graduate in the Spring of 2017. She started working as the operations manager for the Splash Lab in October 2015. Lydia makes sure everything runs smoothly, so the researchers can focus on their projects. She enjoys camping, reading, traveling, and running. Her LinkedIn profile can be found here.
Wesley Robinson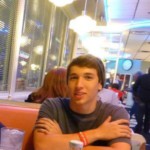 Wesley Robinson is a senior at Utah State University studying physics and he joined the Splash Lab in October 2015. His interests include snowboarding, hiking, rock climbing, and pretending how to code. He is currently involved with bubble film experiments, as well as swarming behaviors in various animals.
Hunter Klein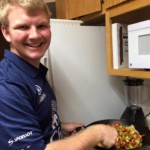 Hunter Klein is a sophomore at Utah State University studying mechanical engineering. He joined the Splash Lab in Fall of 2015 as a research assistant, and since has been involved in experiments on paint droplet impact and droplets rolling on a small pool. His hobbies include playing and listening to Jazz, watching movies, hiking, and fishing.
Splashlab 2015-2016: Year Six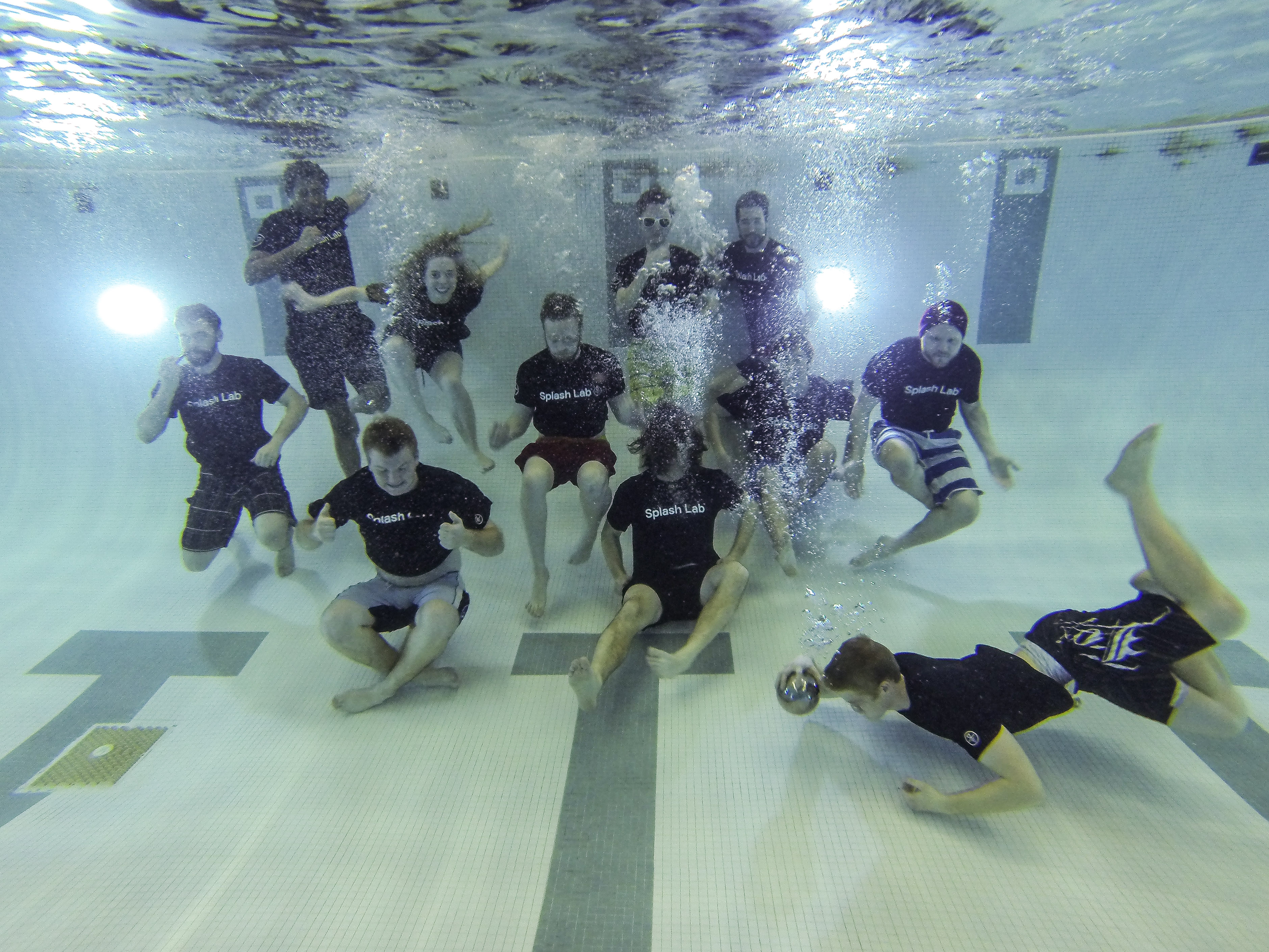 This year the lab got settled into life at USU and published many papers. Top row from the left: Saberul Islam Sharker, Lydia Williams, Ryan Hermansen, Benjamin Lovett. Middle row: Andrew Merritt, Nicolas Russell, Wesley Robinson, Randy Hurd. Bottom row: Hunter Klein, Tadd Truscott, Nathan Spiers
Splashlab 2013-2014: Year Four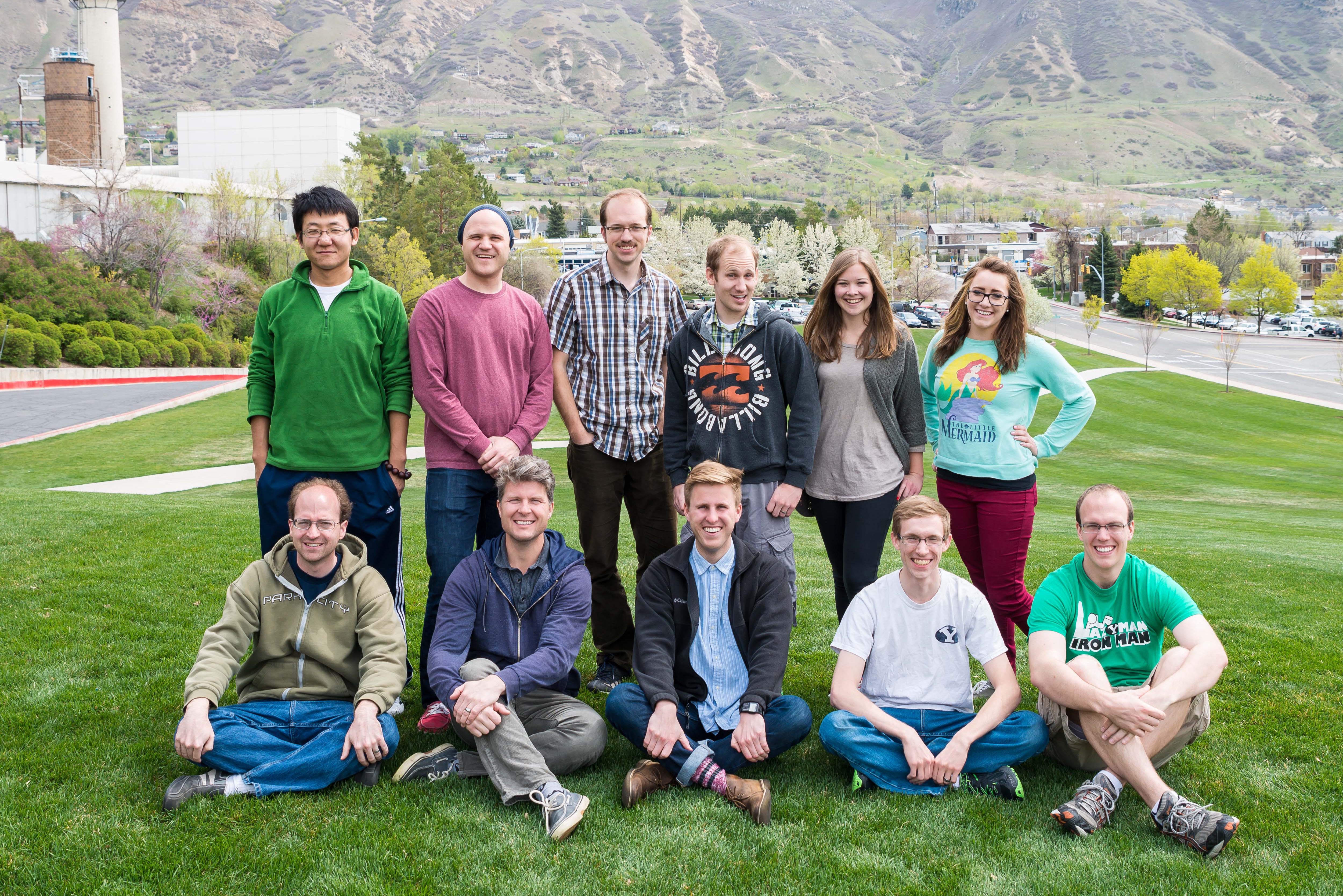 This year we got a quadcopter and took some awesome data bouncing elastic spheres along 6 water tanks!  In the photo below top row left: Zhao Pan, Randy Hurd, Chris Maybe, Eric Hardester, Madison Boyer, Clarice.  Lower row: Jonathon Pendlebury, Tadd Truscott, Kip Hacking, Jeremy Ellis and Zach Smith.
Splashlab 2012-2013: Year Three
This was our largest group ever.  Many projects were started and several were finally published.  Upper row left to right: Kyle Bodily, Randy Hurd, Jordan Huey, Randy Munns, Eric Hardester. Next row from left: Ken Langley, Mikkel Hansen, Tadd Truscott, Wesley Fassman, Taylor Killian and Jonathon Pendlebury. Bottom row from left: Zhao Pan, Jeremy Ellis and Zach Smith.
Splashlab 2011-2012: Year Two
Aside from Josh, the same people but an expansion of the group. This was the year many wonderful things came together. Many papers were written our first grant was funded! Clockwise from upper left row: Matthew Elverud, Preston Murray, Randy Munns, Jesse Daily, Bryce McEwen, Tadd Truscott, Ken Langley, Jonathon Pendlebury, Alex Jafek.Kyle Bodily, Robert Klaus, Michael Wright, Joey Nielson, Taylor Killian & Eric Hardester.
Splashlab 2010-2011: Year One
Splashlab was concieved by these individuals. They are the first members of the lab and will always be remembered as the 'starters'. Thanks to them we are what we are today. Upper row from left: Jeff Hendricks, Ken Langley, Bryce McEwen & Alex Jafek. Lower row from left: Michael Wright, Josh Bryson, Robert Klaus, Taylor Killian & Tadd Truscott.
And many others that have not submitted info or photos!